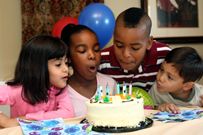 Four siblings, Roger, Peter, Susan, and Mary, had been in and out of foster care since being removed from their mother's care in 2003.  The two older children, Roger and Susan, were initially removed because of severe sexual abuse by the mother's boyfriend and were later reunified once he went to prison.  The younger ones were later removed because of the older children's transition from victims to perpetrators – they had begun to sexually abuse the younger children.  The physical, sexual, and emotional abuse done to all four of these children was extreme.  Roger and Susan are now legally adults and out of the foster care system – they are again living with their mother.
Peter and Mary had been living separately in several foster homes over the last several years.  Because the older children were again living at home, reunification with the mother was not possible.  In addition, the children, now ages 10 and 12, did not wish to be adopted -  their express wish was to be reunified with their mother.  Unfortunately, home was still not a safe place to be.  This fractured family's separation created significant emotional trauma for all of them.
Their CASA, Kathy, advocated for significant therapeutic interventions on all of the children's behalf, including offender therapy for the older children and victims' therapy for all, even the mother.  She was also able to get Peter and Mary placed together in a foster home willing to keep both children through age 18.  Getting counseling services early on for the younger children helped to stabilize their behaviors while in foster care, an outcome not realized for the two elder ones.  Both of them did well in school and interacted appropriately with others.  In addition, they regularly visited with their mother.
Kathy listened to the children's concerns about adoption but also wanted to keep them safe.  She acknowledged and honored their bond with their mother and with each other and advocated for a kinship legal guardianship situation rather than adoption.  The CASA's advocacy work on their behalf resulted in the children getting the help they needed to help deal with their trauma history and stabilize their behaviors and yet maintain the connection with their mother that they wanted.  Their permanent home was legally created in April 2011 after eight years in foster care and five years with CASA.
Even though this story is older, what's not old is the manner in which the CASA assisted the children throughout their challenges. Success stories are the best stories.