The Wrestler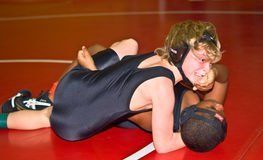 Michael grew up in foster care. He had been removed from his parents at age 4 because his father threw him against a wall. There had been a long history of violence in the home, and Michael was one of its victims. Child protective authorities placed him with relatives, where he was again abused and removed at age 6. This time he was placed in a non-relative foster home.
Michael moved around a lot, eventually residing in eight different homes. When he turned 14, he discovered wrestling, falling in love with the sport. He attended practices, played in the games, and was thrilled to be a part of the team. However, one day during practice Michael was hit and held by a teammate, triggering a flashback to his abuse. He lashed out in an effort to protect himself, resulting in his dismissal from the team.
Michael was devastated. He suffered from Post Traumatic Stress Disorder (PTSD) as a result of the abuse he suffered, and the wrestling coach didn't understand its dynamics. Michael's CASA, Phyllis, fortunately did understand. She asked for a meeting between the school, the therapist, the caseworker, and herself. She advocated for Michael's reinstatement on the team, helping the coach understand that he was re-living his abuse and in his mind he was protecting himself. He wasn't a violent person or a threat to anyone – he just had some struggles he had to work through. With the CASA's help, the coach was able to understand PTSD, and Michael was reinstated to the team.