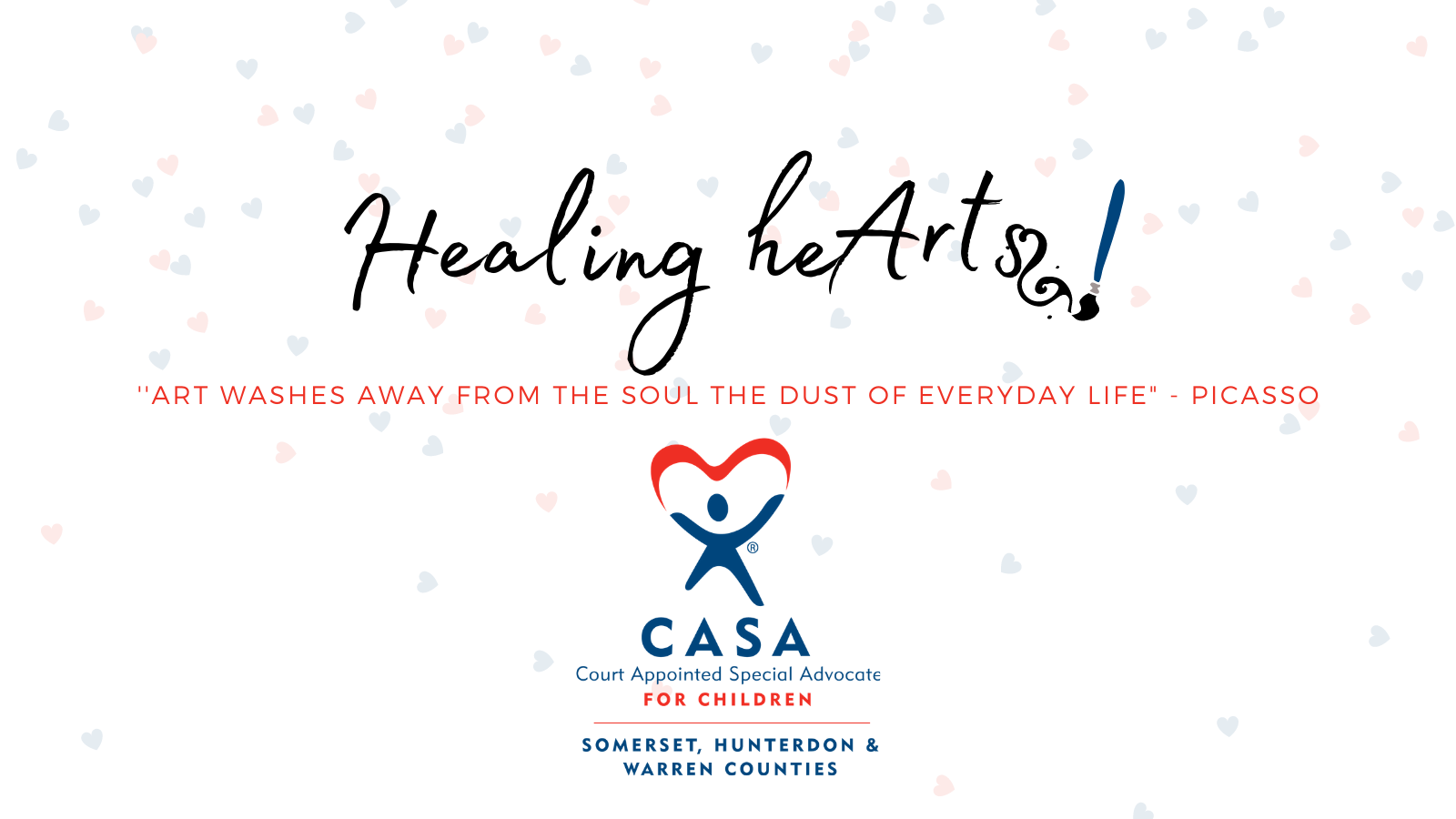 Join CASA SHaW for Healing HeARTS, an evening of healing and the sharing of the heart of many talents on April 9th at 7:00 PM. At our virtual gala, we will celebrate and tell the stories of how many individuals coped during the pandemic through the arts. Their crafts and stories will be on virtual display and available for purchase to the highest bidder. You will be uplifted and inspired by the works and stories of these incredible individuals.
All proceeds from this event will support our mission to provide well-trained CASA and trauma informed volunteers to serve as advocates in court for children living in foster care. Our goal is to ensure that every child served has a safe, permanent home and the resources and services needed to thrive and not just survive adverse childhood experiences. We are committed to educating ourselves and the community about the causes and impacts of child abuse and neglect, the need for racial equity in a disproportionate system, and how to best advocate for and meet the needs of children in foster care in Somerset, Hunterdon, and Warren Counties.
---
Sign up with your friends and family! There will also be a Happy Hour breakout session so you can catch up and hang out with those who are close to you. Our online gala will be a joyous way for you to not only enjoy the togetherness of our community, but to also help abused and neglected foster children.
CLICK HERE to register for our Healing HeARTS Gala.
The evening's festivities include two cooking segments with Barabra Markowitz from Chez Barbara, a message from Chris Sullivan, the actor who plays "Toby" from the hit TV series "This Is Us", and a special message from New Jersey's own Joe Piscopo.
In addition, CASA is thrilled to bring you a special keynote address featuring Rev. Darrell Armstrong. Rev. Armstrong is an acclaimed teacher, preacher, motivational speaker, writer, workshop facilitator, radio host, entrepreneur, child welfare / family strengthening advocate and grassroots community organizer. He regularly speaks and / or conducts workshops at houses-of-worship, colleges and universities, primary and secondary schools, civic organizations, government agencies and military bases. He has made numerous television and radio appearances and has written several articles and editorials for local and national publications. He is the host a weekly radio broadcast called "Bless the Family" Broadcast. Rev. Armstrong is considered a national leader on issues pertaining to child welfare and family strengthening, particularly foster and kinship care. He serves as a consultant on several federal, state and county initiatives regarding church-state relationships. His hobby and particular workshop expertise is on the First Amendment "freedom of religion" clauses, particularly those issues pertaining to religious discrimination in the workplace. He serves on several national, state and regional non-profit and for-profit entities.
If you are unable to attend you can DONATE HERE today to help abused and neglected foster children in need.
---
CHECK OUT OUR HEALING HeARTS ART AUCTION
All donated art pieces are available on the silent auction site, and proceeds will be directed toward the abused and neglected foster children we help. The Art Auction is open now through April 11th at midnight. 
ALSO: Plum Wine has generously donated a Wine Dispenser and Preservation System - a $2,500 value - that is up for bid in the silent auction!
We also have a wonderful dining experience up for auction at the award winning SOHO Italian and pizza restaurant Il Corallo Trattoria in Manhattan! 
---
BECOME A HEALING HeARTS SPONSOR
$5,000 Full HeART Sponsor: The sponsor is entitled to a 1-minute promo video (provided by the sponsor) shown 3 times during the gala event and posted twice on our social media
$2,500 Open HeART Sponsor: The sponsor is entitled to a 30-second promo video (provided by the sponsor) shown 3 times during the gala event and posted twice on our social media
$1,200 Kind HeART Sponsor: Logo placement and recognition 3 times during the event and twice on social media
$600 Pure Heart Sponsor: Logo placement and recognition once during the event and once on social media
---
DOWNLOAD CHEF BARBARA'S RECIPES FOR THE EVENT!
Ghost Hawk Cherry Jam Ale Baked Brie